Lindsay Technical Consultants, Inc. is now offering a new way to process dental and medical claims for our clients included free with our service. Dental Direct and Medical Direct enable providers the ability to fill out and submit claims directly and immediately via our secure web server (HIPAA compliant), online, without the need for costly practice management software.
Using a computer (Windows, Apple OS, Linux) with internet access, you can create and send a claim in one step, saving both time and money for your practice. Dental and Medical Direct can eliminate practice management software obligations such as costly updates, difficult program operation and/or training. In addition, it can be accessed from any location with a computer, enabling you to easily enter claims off-site, from home or anywhere. If you know how to use a web browser and surf the net, you will know how to use Dental Direct and Medical DIrect . It basically serves as an electronic version of a paper claim form, including the same fields and info requirements as your standard (ADA2006 for dental or CMS1500 for medical) paper form.
The service runs via web page form field entries that write to our online database file for instant processing. In addition, previously submitted claims can be reloaded into the page from your personal online archive for simple corrections needed for resubmitting rejected claims and fast creation of new claims using previously entered data. The more you use it, the less you have to type!
LTC for further details or for access to test out this service.
UPDATE! Both Dental and Medical Direct now have the capability to submit secondary type claims. Many carriers are now tightening requirements for these type of claims and your software may not support it. LTC has a solution for you to navigate these hassles.

Sample: Screen Shot 1 of Dental Direct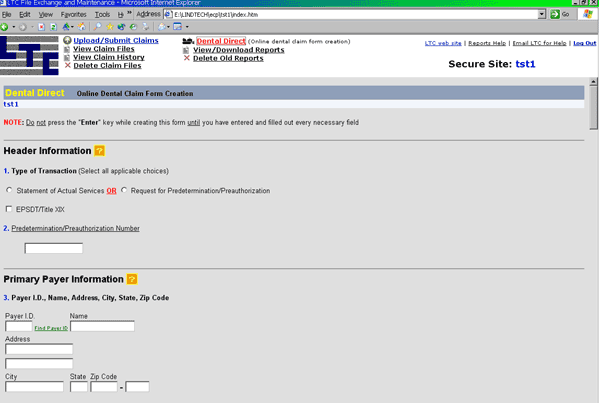 Sample: Screen Shot 2